How to use the Custom Glove Builder
Making custom baseball gloves has never been easier than it is now. Every company has designed slick applications to allow customers to design theirs baseball glove easily. Having tested many tools, NYStix has worked hard to design our glove builder to be easy to use, by all. We focused on a clean interface where we guide you through the all the steps.
After starting the tool, the glove builder will guide you through the steps collecting necessary basic information to make sure your glove fits properly and looks good on your hands. Wait! Before you begin, look at your glove hand right now and imagine your NYStix customization will look like.
Continue reading this short description of what you will be doing in the custom glove builder tool.
Best baseball glove leather
Our Custom baseball glove is a high quality product and as a boutique sports equipment company, we need as close to 100% satisfaction from our customers. We do this by not taking shortcuts in glove production and buying the best baseball glove leathers from Japan's well respected tanneries, whose tanning processes are considered best in the world. Click here to read my about my struggles learning to be a catcher, but my mitt was hurting me.
Question #1:  When the custom glove builder starts the first question is to pick the position you will use your glove or mitt. 
Question #2: This step starts by asking you the leather quality that you want for your glove. US Premium Steer(steerhide) or Dutch Kip (premium kip leather). 
After you select the quality of your glove the remaining required options are:
Glove Pocket. Your selection will tell us which glove pattern to use.  For example, if you play middle infield position and your range is excellent, maybe a shallow pocket would aid a quick release. 
Hand Size: We can adjust the wrist enclosure to insure comfortability. If you are buying for a youth player, the wrist section has two sets of lace holes to adjust for when the players hands strengthen and increase in size.
Throwing Arm. The arm which you throw with.
Glove Flexibility. All gloves are new and after construction, are very stiff. If you want us to start the breaking in, we can. 
Palm Protection:  This option is for internal padding. Our premium gloves do not need padding. However, we can put a thin padding if you wish..
Figure 3. Choosing glove leather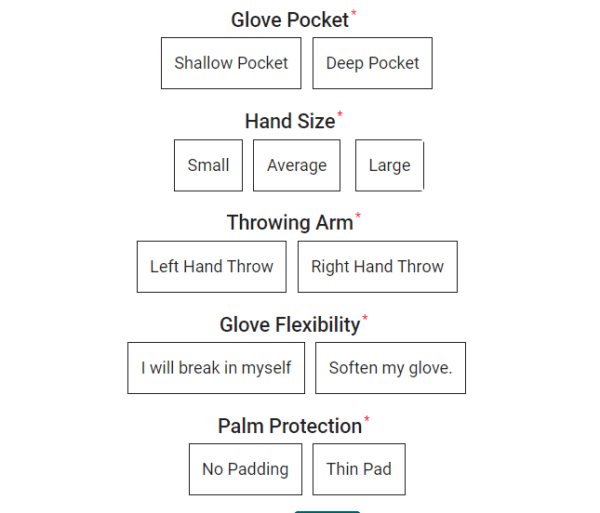 Picking your glove size is super easy. Use the slider to view and select available sizes.
Available sizes have descriptions to help youth and adult purchasers choose the size that best fits your need.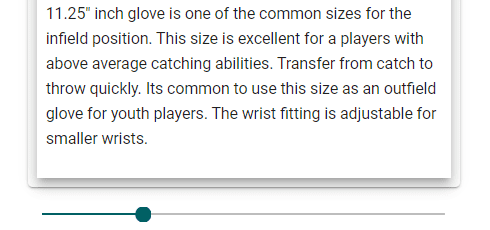 Figure 3. Choosing glove leather
NYStix offers a large mix of leather colors for you to mix and match your custom glove. Create a color combo of your teams colors or go conservative with 1 color for your entire glove. 
On the glove builder page, you will see an image of glove that matches the position you choose in step 1.
To complete your customization successfully, you must navigate the 3 glove angles available. Use the navigation buttons to go to the other views to select the sections and apply a color. *All available sections require a color applied.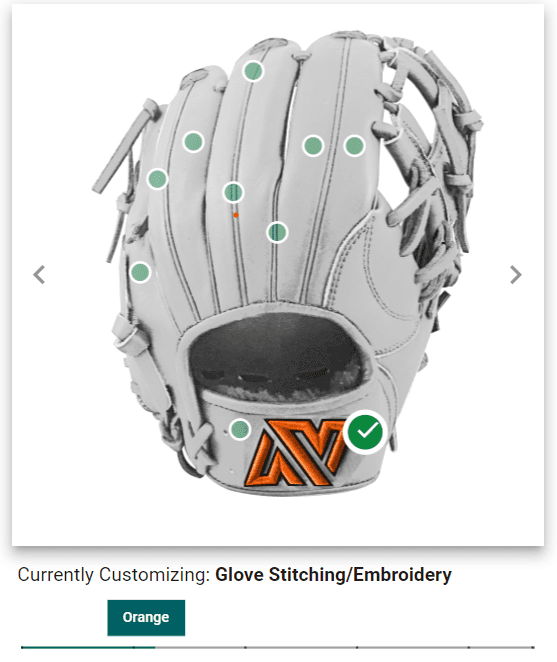 Figure 5. Glove Customization
NYStix has over 20 glove webs to choose from.
Infielders can pick a web that fits your personality or style of play.
Outfielders, select a trapeze web or Y web that allows you to make the spectacular catches look normal.
The last step of the custom glove builder is to enter your personalization signature, tag or number. Choose the embroidery color, font style and add to cart.